At Industrial Artifacts, we take pride in our wares. Each of these pieces has a lifetime of history. Some tables resided in a General Electric factory before making their way to us. There are lamps that have provided necessary lighting for the entire career of a dentist or doctor and now hang in dining rooms across the world. 
We want to bring some of those stories to you. In an ongoing series, Industrial Artifacts would like to showcase the companies that developed the many hallmarks of interior design we see today as well as give some helpful tips on how to best make use of all these wonderful things. This is the first of those letters. 
 Faries Manufacturing Co.
Robert Faries founded his company in 1894 with hopes of creating beautiful lamps for the home and workplace. Produced out of Decatur, Illinois - the wide array of Faries lamps were common in dental and medical offices from the turn of the century onward.
Faries was an avid inventor who created not only these lamps but also several inventions such as the photographic Autoposean and an incredibly important farm tool used for planting corn. 
When Faries finally began making lamps he knew he wanted them to stand out. A bold array of finishes can be found ranging from brass, to copper, nickel, and aluminum. Pictured here is an exceptionally rare oxidized copper lamp with a coveted "tortoiseshell" shade. Faries lamps are renowned for their maneuverability. Joints, wing nuts, and set screws can be seen in all manners of their lighting.
Print Ads - Turn Of The Century Selling
What history write up would be complete without showing a few print ads? You'll see the above lamps on these lists as well as a few others. Which ones are your favorite? We're partial to the No. 15 for the few days that we can keep them in the shop.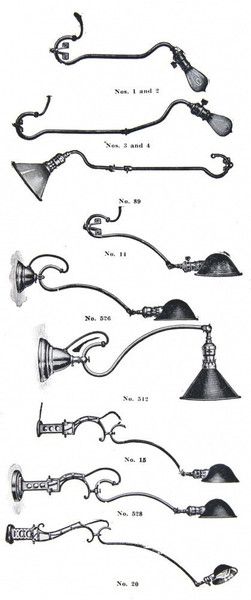 The Man With The Plan
Robert Faries is pictured here holding a prized catfish. This upstanding gentleman resided in Decatur, Illinois for much of his adult life after his return from the Civil War. He went on to found both the Faries Mfg. Company as well as the Walrus Mfg. Company - which produced soda fountains, restaurants, and bank fixtures. 
He spent the latter years of his life studying photography and became quite enraptured by the art.
Looking forward to the next newsletter? Let your friends know and stop by if you're ever in our neighborhood!
---